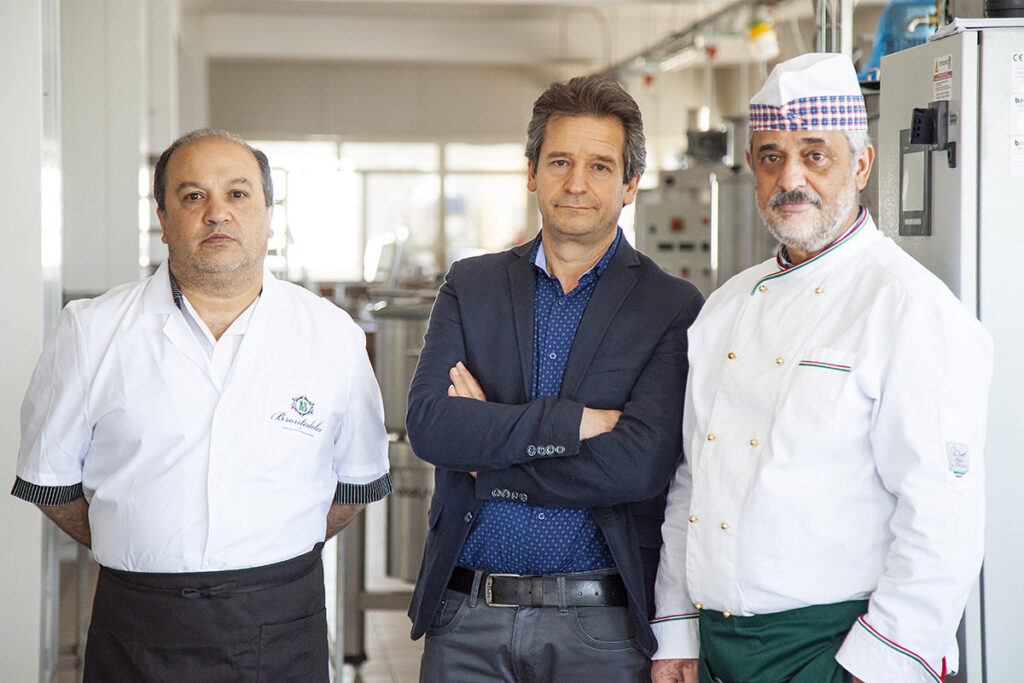 Our dream
Antonino, Pietro, and Giuseppe were born and raised in Bronte.
Friends since childhood, they have not only lived together the best moments of their lives but have also shared dreams and aspirations.
Their biggest dream is called Brontedolci: a confectionery workshop, that becomes reality in 1997.
Beginning
In the early '70s Bellitto Brothers and Antonino Caruso worked in local pastry shops and bars. They have been friends since childhood and share a great passion for pastry and the same dream: to open their own bakery.
In Bakery
That dream comes finally true. The two brothers run a bar in Maletto, whereas Caruso opened it in Bronte, a few kilometers away.
Dream comes true
Their paths would cross again many years later. Thinking back to the dream they had as kids and treasuring their experiences, the three decided to open their own laboratory, thus Brontedolci was born, a small nougat workshop.
A new Plant
It is the year of the inauguration of the new plant, what was previously a small laboratory is now a large pastry lab, with modern machinery, new customers to satisfy and new goals to achieve.
Family grows more and more
Brontedolci swells: the children of the three founders join the family business. The same passion is maintained in the second generation but a completely new vision that pushes the company to set new goals.
That dream goes on…
Fathers and sons work together: love for tradition and projection into the future go hand in hand. It is this type of synergy that allows Brontedolci to broaden its horizons. New products, new variations, new markets. The Brontedolci pastry workshop with its wide range of recipes is also known and appreciated abroad.
Your Feedback is highly appreciated.